Planetary Effects
"grahadhinam jagat sarvam grahadhina narapara
shristi rakhyana samhara sarve api grahanugrahah"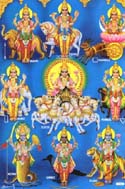 (The Sanskrit verse above says: The entire world is under the influence of the planets. The creation, existence and destruction of mankind are also subject to their influence. Hence the planets have become an integral part of life on earth.)
Astrology helps to overcome & mitigate the evil effects through Mani-wearing appropriate Gemstones, Mantra - the chanting of specific Hymns and Aushadha - the use of correct medicine.
Every planet is assigned a particular Gemstone to ward off any evil effects due to its unfavourable position in a native's horoscope.


Jupiter
Pisces
Topaz

Mars
Aries
Coral

Venus
Taurus Diamond

Mercury
Gemini
Emerald

Saturn
Aquarius Sapphire

Rahu:
Gomedha

Ketu:
Cat's Eye

Moon
Cancer
Pearl

Saturn
Capricon Sapphire

Sun
Leo
Ruby

Jupiter
Sagittarius
Topaz

Mars
Scorpio
Coral

Venus
Libra Diamond

Mercury
Virgo
Emerald
There is none who need despair on the ground that his sins have been too great or too many. According to the Gita, sincere prayer & repentance are countermotions in the field of Karma and help neutralise sinful acts.
For further enquiries, Contact the Astrologer.