Remedial Measures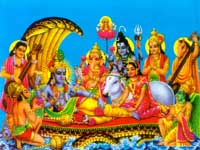 Propitiation of God through chanting Mantras or Stotras leads to mental tranquility for everyone. All that is required is devout devotion and utmost faith unto Him. It is through planets that we invoke God. Planets are therefore the medium between Jeevatma - the mortal & Paramatma - the immortal.
This can be achieved through devout rendering of Stotras, a few of which are mentioned hereunder for the benefit of people believing unto Hindu Gods and Goddesses. God has not distinguished between religions, hence a devotee is a devotee irrespective of any religious rituals he practices.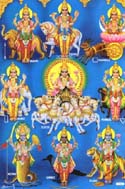 Narayana Kavacham - Removing obstacles in one's life.
Hanuman Chalisa - To Remove Hurdles.
Santana Gopala Mantra - For Begetting Child.
Radha Kripakataksha Stavaraj - Matrimonial Harmony.
Sri Nrisimha Kavacha - For Victory in Litigation.
Saraswati Stotra - Learning.

Hayagriva Stotra - Higher Education.
Surya Mandalashtakam - Seek Blessings of Lord Surya.
Navagraha Stotra - Propitiation of all nine planets.
Durga Saptasati - To ward off evil effects.

Propitiating Measures


Name of Planet

Deity

Method I

Method II

Gems

Metals

Use

Sun

Siva

Ruby

Copper

Wheat Grain

Moon

Durga

Pearl

Conch

Raw Rice

Mars

Subrahmanya

Coral

Bull

Red Gram

Mercury

Vishnu

Emerald

Ivory

Green Gram

Jupiter

Pakshi Raj (King of Birds)

Topaz

Gold

Bengal Gram

Venus

Lakshmi

Diamond

Silver

Cow Gram

Saturn

Brahma, Vishnu, Mahesh

Sapphire

Iron

Sesame Seeds

Rahu

Serpent

Agate

Lead

Milk offering to Snake

Ketu

Ganesha

Lapis Lazuli
or
Turquoise

Bronze

Milk offering to Snake
For proper selection of remedial measures contact the Astrologer.